4 Best Free eCommerce Platforms
Source: https://websitesetup.org/
To make these free, open-source eCommerce platforms work, you need to have web hosting and a domain name previously in place. You can then set up these platforms through your web hosting panel, such as cPanel, with 1-click-installation. Or, you can also set them up manually.
1. WooCommerce (Free)

WooCommerce is an open-source plugin for WordPress-based websites. WooCommerce itself is entirely free to get started, but you must have website hosting and WordPress already in place. You can also enhance your online store with paid extensions, integrations, and themes for your storefront.
Like WordPress, WooCommerce has several free themes that you can use to build your online store. Another option is to purchase premium themes to set your store apart from free theme users.
You can set up various payment options from major credit cards to integrations with Stripe, PayPal, etc. You can also sign up with WooCommerce Payment with no setup charges or monthly fees. This allows you to accept credit or debit cards with a charge of 2.9% + 30¢ for each transaction with the US-issued cards. An additional 1% fee applies for any other cards issued outside the US.
All of the inventory management, tax calculation, and shipping rates management takes place in the WordPress interface. You can integrate your WooCommerce store with Google Analytics to keep track of data.
There's an extensive support forum for WooCommerce that can be your first go-to source for information. Since the platform is mostly free, you are expected to handle things on your own or hire an outside programmer.
As a bonus, you have a 30-day money-back guarantee with every purchase from the WooCommerce app store.
Learn how to set up a WooCommerce store (step-by-step guide)
2. Magento Open Source (Free)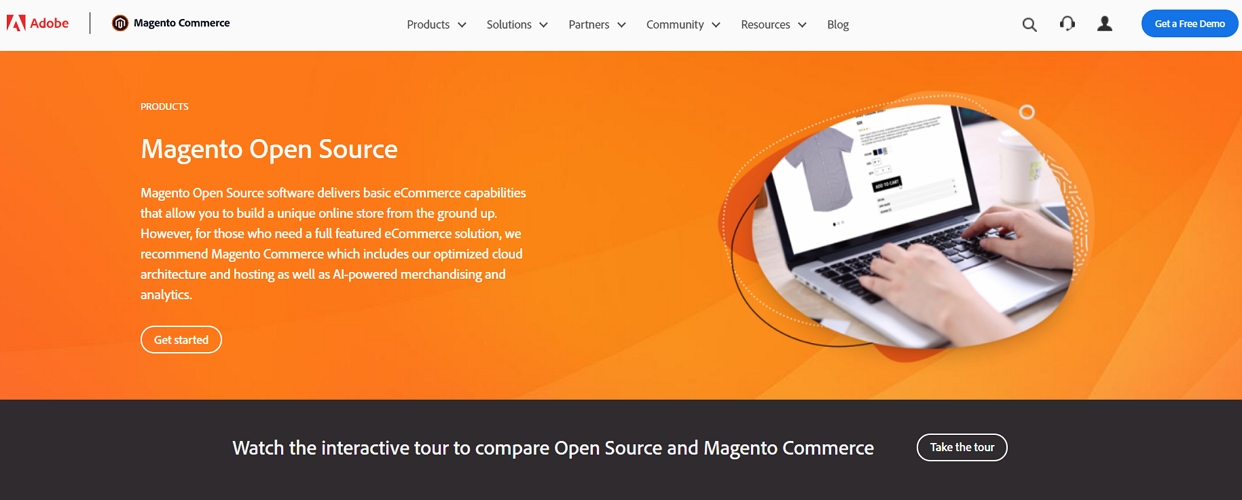 Magento's open-source platform is designed for small businesses and developers. It's a great online store builder if you're looking for a platform with the most freedom. However, if you don't have experience with Magento, you need to hire someone who does.
Magento is fully mobile-optimized, but with the open-source platform, you need to build the store up yourself. This also means that you have a lot of freedom for rich content for products and other features. You can also get additional eCommerce extensions through Magento Marketplace.
The platform is integrated with PCI Compliant Payment Solutions. You are responsible for setting up the payment gateways or getting an extension from the marketplace.
Managing a Magento Open Source store also requires some extensive expertise. The platform has integrated checkout, payment, and shipping modules, but again, you need to set them up yourself. So, no fancy drag and drop tools, default dashboards, or simple input modules in this platform.
There also isn't any direct technical support with the open-source Magento version. However, there are guides, walkthroughs, and forums dedicated to any questions related to Magento's platform. There are also developers for hire who specialize in Magento's online stores.
Magento is also available in a paid version, but the cost can rack up to thousands of dollars.
Learn how to set up a Magento store (step-by-step tutorial)
3. PrestaShop (Free)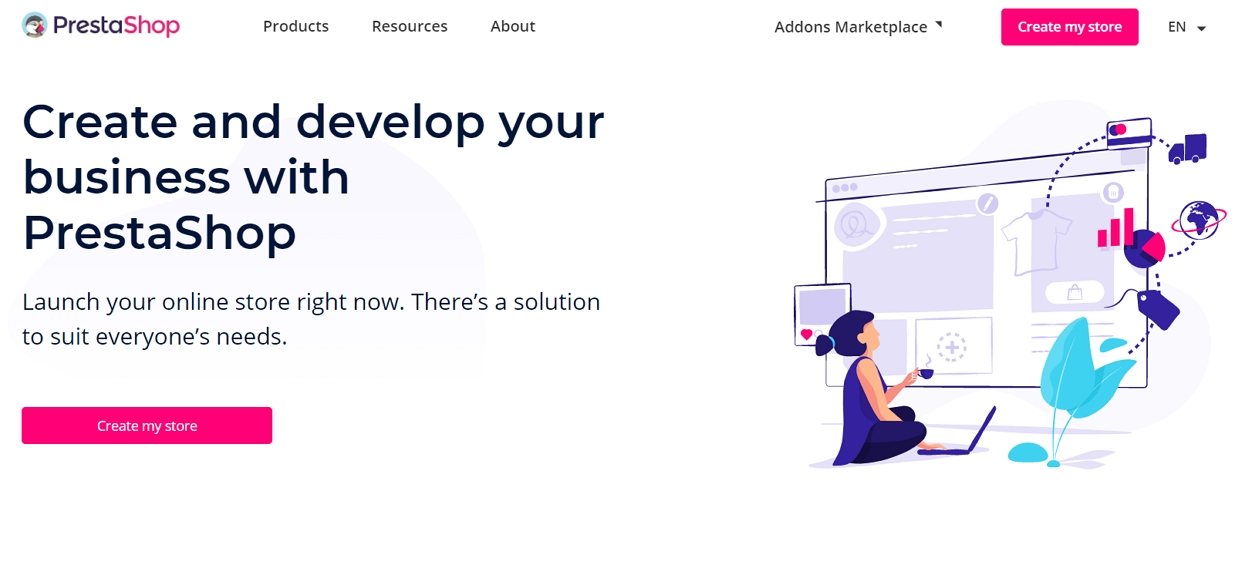 PrestaShop is an open-source eCommerce platform with a strong community. It gets regular updates and bug fixes, and upgraded versions now and then. It's also available in 75 languages, which is quite impressive.
PrestaShop offers a mobile-optimized platform, and you can choose between various themes. In their official marketplace, the storefront themes start at $69.99. But, you can find community-developed free themes from the forums rather quickly. These free themes don't appear in the official marketplace.
You can install payment gateways through different integrations. There are also some free integration possibilities such as PayPal, Skrill, or Blockonomics Bitcoin Payments addon. PrestaShop's platform also comes with in-house developed fraud detection, which you can add free of charge.
PrestaShop's dashboard is where you can add modules to build your online store and customize it. From their marketplace, you can also get free modules for live chat plugins, shipping options, marketing tools, reporting, and many more. There are 50+ free modules you can choose and add to your online shop.
Technical support is community-based with some of PrestaShop's step-by-step guides. There's also a public forum with a strong community to support you.
Learn how to set up a PrestaShop store (step-by-step guide)
4. OpenCart (Free)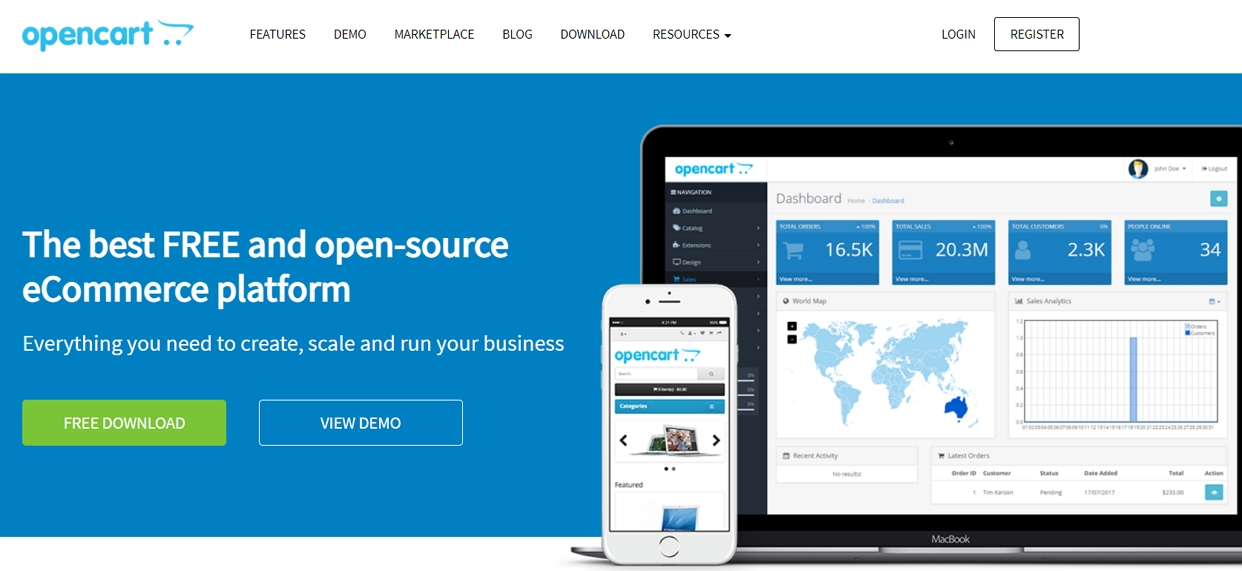 OpenCart is another easy-to-use, open-source eCommerce platform, which currently supports over 342,000 eCommerce stores. They have many built-in features and an extensive library of free extensions.
Their platform is mobile-responsive, and you can choose from free and paid themes as a base. You can find both options in OpenCart's marketplace, which features over 13,000 modules and themes. However, the marketplace itself looks a bit messy, so we recommend you to check out the ratings and comments beforehand.
You can add unlimited physical or digital products with both one-time and subscription selling methods. OpenCart provides an option between guest and registered user checkout by default.
OpenCart has 36 integrated payment gateways. You can choose any of these, such as Authorize.Net, Amazon Payments, First Data, Klarna, LiqPay, Skrill, PayPal, SagePay, and many more. They also have integrated shipping methods with Australia Post, Citylink, FedEx, Parcelforce, Royal Mail, UPS, and USPS.
Your online store's management is also quite straightforward for managing products, customers, orders, tax rules, and promo codes. The admin dashboard comes with an overview of your online store's performance. Also, you get a default sales report, viewed products, and purchased products already built-in.
OpenCart offers free community support with forums and useful guides for setting up and running your webshop. They also offer a paid dedicated commercial support option with a price starting at $99/month per site.
Learn how to set up an OpenCart store (step-by-step tutorial)
Summary
When choosing the best eCommerce platform for your online store, you have multiple free and paid choices. It's lucrative to go with the free, open-source platforms, but then everything is up to you. If you don't have any programming experience, it's best to go with out-of-the-box platforms.
When looking at paid platforms, not every feature is available from the start. Take into consideration the possible future costs when you want certain upgrades like abandoned cart recovery or in-depth reporting.
The same goes for open-source platforms. Even though the platform itself is free, there are extensions and integrations that you need to pay for if you want to include them. There is a possibility to build an online store without spending a single dollar (except for hosting), but the result might not be up to today's standards.